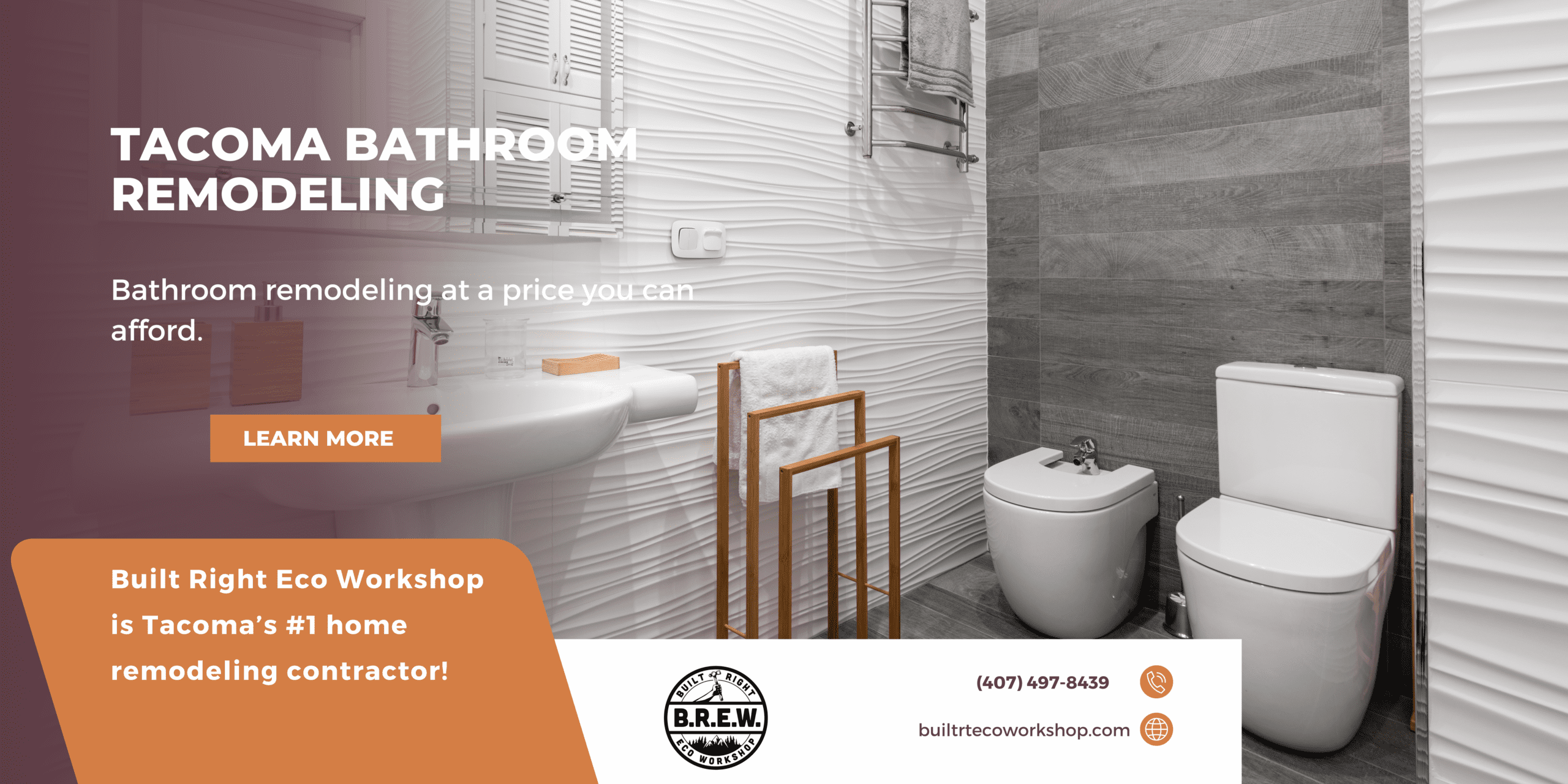 Nothing is as beautiful as an old craftsman home built with quality materials and caring hands. Preserving the timelessness that went into building Tacoma's classic homes takes careful consideration and a contractor who understands what you want to maintain while transforming and upgrading your most valuable possession. 
No matter the age of your home, necessary repairs and remodeling is unavoidable and you may feel as if it is too much money or too much hassle. You may want to update your home but you are not sure where to start. You may be asking yourself how many different contractors do you have to call? How long will it take? Are they all going to demand high prices and not deliver  quality work? Most importantly, will they listen to your ideas and be able to keep the natural beauty of your home.
A home remodeling project is a major investment. It can be costly, confusing and time consuming. Fortunately, you can have a home remodel with the guidance of a contractor who can transform the space while respecting your wishes.
Built Right Eco Workshop is Tacoma's preferred bathroom renovation contractor.
If you're looking to remodel your bathroom or upgrade some components in your bathroom, call Built Right Eco Workshop and have all your questions answered. (409) 497-8439
The bathroom really is the most important part of your house. It should be your place of relaxation, refreshment, and rejuvenation. It should be a room you truly like because when you are completely comfortable with your surroundings, you are at your healthiest.
Bathrooms are seen and used all the time, so it's important to design and renovate them to be as functional and beautiful as possible. Built Right Eco Workshop offers a full spectrum of home improvement services for you, including planning, selecting materials and products that match your taste and budget, executing your project with top-quality workmanship, and finishing with a beautiful outcome.
Usually, people want to add a bathroom to an existing room, increase the space in their bathroom, or repair and update fixtures. We have listed some important reasons to upgrade your bathroom that might help you understand the value of bathroom restoration.
You are throwing money down the drain if you do not have water and energy-saving products in your home. There are many great ways to save money on your water bill with low-flush toilets and water-efficient fixtures. Your family can save over 2,700 gallons of water or $300 a year by replacing old shower heads.
Increase your home's value.
Any time you make improvements to your home, you are increasing the home's value. If you ever sell, those changes increase the cost of the house. Just a few renovations can make a huge difference in value. 
A bathroom renovation is the most popular of all home improvements, according to the National Association of Realtor's (NAR) 2019 Remodeling Impact Report. No wonder: Bathrooms are often our personal retreat from the rest of the house and offer a great opportunity to make our own style statement while also boosting comfort, style, and value.
Better living for those with special needs
Suppose you are or have a family member that is getting older or has a disability. In that case, it's a great idea to provide showers or bath's that they can walk into instead of heaving themselves in and possibly getting hurt on a wet floor. There are many wonderful selections of bathroom enhancements that can help with mobility, including showers with wider doors, easy-open drawers, safey bars, and more.
Adding more space to your home is the best reason to remodel your bathroom. So many great variations have come from the home improvement industry to save space while adding comfort, convenience, and functionality. Your bathroom will stay cleaner and organized while providing a sense of freedom. BREW (Built right Eco Workshop) designs and builds custom bathrooms that will enrich your life. We can do many things in addition to the following.
Add a bathroom to a room (such as a basement remodel).
Install tiling
Install Fixtures
Add walls, fixtures and bathroom components
Install and replace showers, bathtubs, toilets, cabinets, handles, knobs
Bathroom renovations
Bathroom installations
Bathroom remodeling
Replace flooring or add more.
Your Customer Satisfaction is important to us.
There is nothing that can't be done when you have the guidance, creativity and quality workmanship that BREW provides.
Our professional contractor at Built Right Eco Workshop values our community of Tacoma homeowners. When you call us for a bathroom renovation consultation, we will increase the quality of your life with beautiful, useful, and creative bathroom spaces.
We will help you with color schemes, vanities, cabinets, counters, single or double bathroom sinks, bathtubs, and anything else that defines your dream bathroom.
We love transforming spaces with our customers' own style, whether you're looking for a simple remodel or completely refreshing your bathroom. If you have the vision, we have the products and expertise to help you bring it to life.
At Built Right Eco Workshop, we insist that the quality of work provided exceeds your expectations. We listen to our clients carefully and always keep open lines of communication. We serve our clients and community with extreme care and treat each home as if it were our own. 
We understand that plans change and sometimes unexpected issues arise. That's okay. We're flexible and will help find solutions to ease the process and take the stress off of you. We will find you the right style while working with your budget.
You can maintain your home's traditional charm while we customize your space with a quality craftsmanship you will cherish for life. 
Call Built Right Eco Workshop today and let's see what we can BREW up for you!