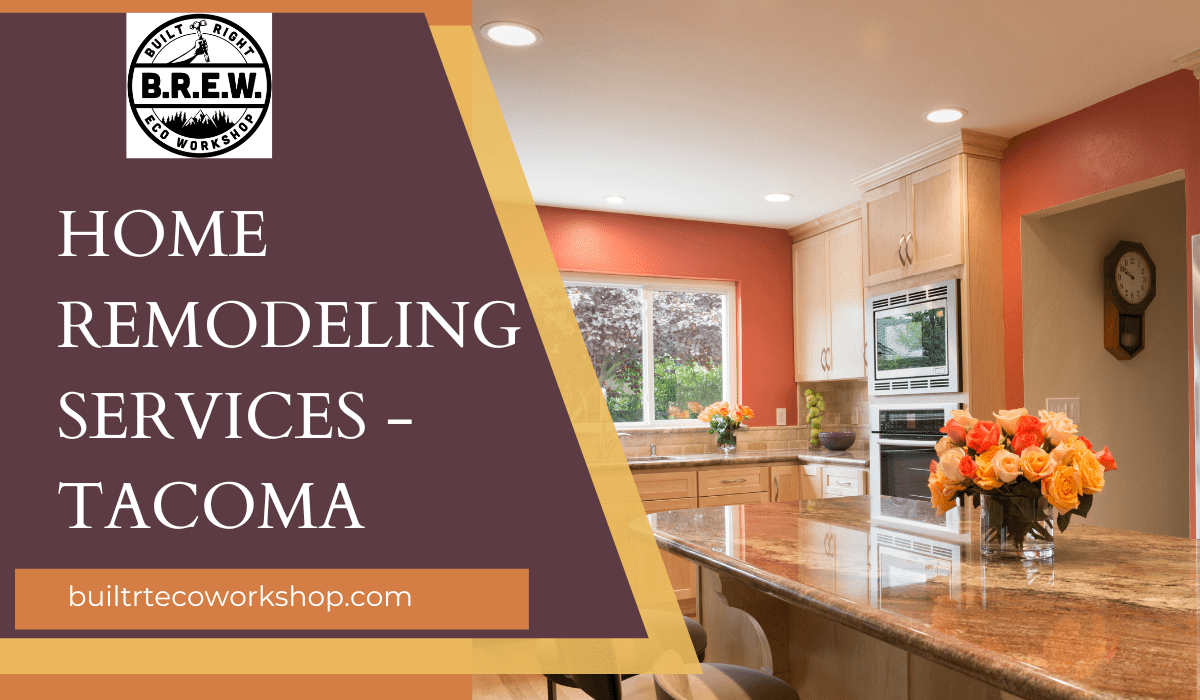 We are your #1 general contractor for Tacoma upgrades, remodels, and home improvements.
BuiltRight Eco Workshop LLC is a general contractor that specializes in eco-friendly remodeling. With several happy customers, we understand how important home improvement projects are to homeowners, and we want to help you make those dreams come true.
We are excited to help you transform your home into a place you will love. As general contractors in/around Tacoma, we handle all sorts of projects, big or small. And as green contractors, we always consider eco-friendly solutions for your home remodel.
Eco-Friendly Contractors in Tacoma care about you and the environment.
Eco-Friendly means if there is a resource we can save, such as preserving perfectly good wood from your home instead of charging you for something new, we will discuss that with you. The point of using the good product you have instead of buying new material will decrease the cost of your renovation while being environmentally responsible.
This doesn't imply that we cut corners. Our process is the complete opposite. The point of repairing and upgrading your home means that we are making it safe, beautiful, and durable while maintaining the historical integrity of the home. 
Built Right Eco Workshop, LLC is a general contractor specializing in eco-friendly remodeling. Our services include garage and basement conversions, kitchen and bath remodeling, general house additions, porches, etc. We are committed to providing quality workmanship along with unsurpassed customer service.
We believe in clean, simple designs that honor your home's existing architecture. We are committed to seamlessly transforming your living space from routine maintenance and repair to a complete renovation at affordable prices.
Please give us a call. We are happy to answer any questions you may have about our services.
(407) 497-8439. You may also want to see our service page for more information.
Remodel your Tacoma home with a free estimate.
Want to remodel your home? Built Right Eco Workshop LLC can help. Our process is easy and straightforward. As a general contractor specializing in eco-friendly remodeling, we save homeowners time and money by providing quality estimates at no cost. We offer insulation, window, and door installation, painting, and more.
Are you a homeowner looking for a contractor specializing in the latest home renovation techniques? Or are you looking to remodel your home's energy-efficient features? At Built Right Eco Workshop LLC, we are dedicated to providing eco-friendly construction services focusing on remodeling your home into a place you can be proud of.
Have you remodeled your home before? It's a very exciting time! However, it can be overwhelming with so many choices and considerations to make. That's why we're here. At Built Right Eco Workshop LLC, we offer a process that takes out all the guesswork by working with you to determine what will work for your unique situation and budget. Our professional is trained and studies the up-to-date techniques and products, so rest assured you'll get top-quality work from start to finish.
Expand your space with expert design and functionality. If you need extra space in your garage, bathroom, or an addition to your home, BREW is the one to call. Do you want to repair or remodel parts of your home? We can fix and install wheelchair ramps, bathroom innovations, and other improvements, including kitchen, living room, and garage upgrades – What can we brew up for you?
We want to improve your life and the space in which you live. That is why we have dedicated ourselves to three major ways to upgrade. Remodeling, Restructuring, and Renovation! We'll take on any room in your house and make it a treasure you'll love forever.
Basement Remodel/ Conversion
Utilize the space you already have in your basement and turn it into something that serves a purpose in your life. With our expert remodeling services, you can have a workshop, fitness room, hobby room, media room, an extra bedroom for guests, or whatever else you may need!
With our specialized BREW care (Build Right Eco Workshop) and craftsmanship, we'll customize your basement space and walk you through the details all along the way.
In addition to installing the latest in kitchen hardware, our expert designer can help you create a beautiful, functional, and efficient kitchen. Our installations include countertops, flooring, and tile backsplashes.
Our team is committed to providing exceptional service and quality workmanship. We'll ensure your new kitchen is built right, from simple door replacements to new cabinets, hardware, appliances, and floors.
Whether you're looking to add space, or modernize fixtures, our bathroom remodeling expert can help you design and customize it the way you want. Revitalize with new paint, swap out tiles and add extra space for relaxation. You might even want to install a walk-in shower or freestanding tub with high-end finishes to make your dream bathroom a reality
Garage conversion offers an efficient and cost-effective way to add living space without increasing your footprint. And it's surprisingly affordable too! We start with a free estimate and design consultation to help you grow your space into something that works for you.
If you're running out of space, you might consider converting your garage into a playroom for the kids, an office or gym, or even a guest suite. It's much less expensive than adding a room and less stressful than moving. You don't have to worry about making major structural changes; instead, we can convert your existing structure into usable space that will serve your needs now and in the future.
We specialize in expanding living spaces and creating the perfect place for your little guys to play and grow. A workstation, play area, or expansion space can all be created with custom closets and shelves. Turn their room into a new universe or animal kingdom, or implement their favorite characters. Add a place to study or a place to play. Whatever you have in mind, we'll make it happen.
Porch Repairs
Built Right Eco Workshop has the expertise and experience to do all kinds of porch repairs and construction. Whether your porch is close to collapsing or just needs repairs, we can help. We will look at your porch, develop a plan to take care of any problems, and, most importantly, ensure that your deck is safe.
Stair Repair
If you think your stairs will give way underfoot or are tired of hearing creaking old floorboards every time you walk up or down your staircase, then it's time to call Built Right Eco Workshop. We're Tacoma's #1 contractor for repairing and maintaining staircases, and we offer a full range of services that can help you get the peace of mind and security your home deserves.
Siding Repair & Replacement
The best way to determine if your siding needs replacing is to look for signs of damage. Keep an eye out for warped boards or panels, cracks in the boards, fading paint, or peeling paint. If you notice any of these things on your siding, that's when you should call us.
A home's exterior siding can significantly affect its curb appeal and overall value. When you replace your old siding and color with a fresh coat of paint, it instantly adds value to your home.
We have several more home repair and restorative services available. Please call us. Ask questions and get your free estimate! (407) 497-8439