American families are discovering the benefits of living in multigenerational homes. While some adult children save money by living with their parents, grandparents can provide child care and get help with medical needs by living with their children.
Whatever your situation is, you may need more room. We can help expand and transform your home beautifully and on your budget. If you are interested in home improvements and house additions or expansions in the Tacoma area, call Built Right Eco Workshop. (407) 497-8439
We'll show you how to make multigenerational living work better for your whole family by combining the best elements of traditional and innovative design. No matter what setup you choose, we can help familiarize everyone with their new environment. By guiding you through our step-by-step renovation process, we will make sure that your most important investment transforms into a convenient and comfortable place to live.
B.R.E.W (Built Right Eco Workshop) specializes in smaller jobs
Even if you do not need an entire room converted we specialize in smaller jobs. You might need something installed and you simply can not do it yourself. We are the perfect solution for those type of needs that do not require an entire construction crew. If you do need a little bit more comfort or expansion, just ask and we'll help you with what you need.
We serve Tacoma homeowners like you all across town. We've been remodeling for over 20 years, and we know how to get the job done right. We can handle everything from home maintenance to basement remodeling. If you need help with painting, siding, installations, or any home improvements, please contact us.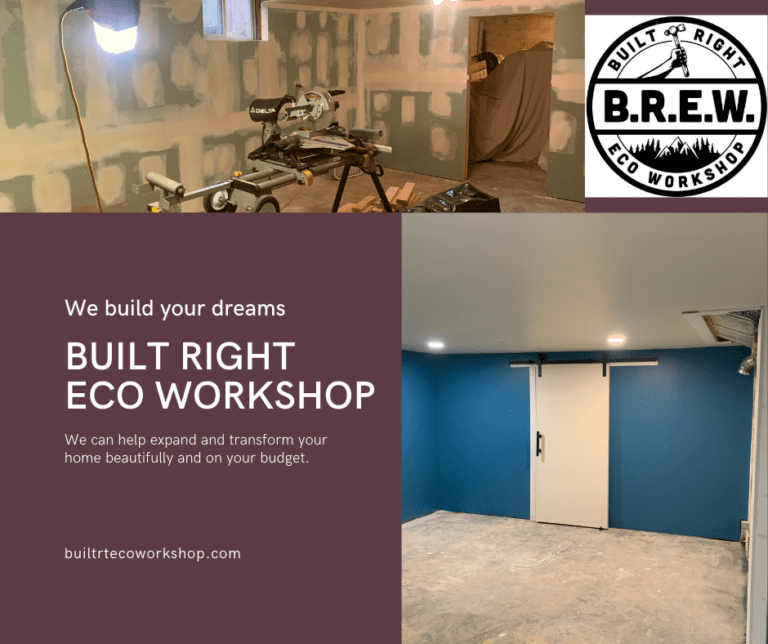 A basement conversion is a cost-effective way to add a new room to your home. If you are considering a basement remodel, the first step is consulting with our team of home remodeling experts and determining how they can help you in your endeavor.
Create a basement bedroom
Are you thinking about expanding your living space by adding a basement bedroom? It's a great idea! Adding one or two bedrooms to your home can increase its value by thousands of dollars and make it more attractive.
Basement Bedroom Requirements
There are federal and local standards for the construction of basement bedrooms, including:
A window that is large enough for an adult to exit through in case of emergency (this is called an "egress window"). The minimum width for an egress window is 20 inches, and the height should be at least 24 inches. If there isn't already a window in the room you want to add, you can excavate from outside the house and put in a new one. If there is already a window that meets all of these requirements, then no further excavation will be necessary.

Ceilings must be tall enough so that someone can stand up without hitting their head; 7 feet tall or higher is acceptable.

Rooms with basements below them require 8 feet of clearance above the floor joists. You may need to remove part of your concrete floor in order to meet this requirement. 
Adding a bathroom makes a basement bedroom even more valuable—and convenient if you have kids! Having their own bathroom eliminates fights over who gets ready first in the morning and who gets home from school before everyone else has showered!
Add a bathroom
Adding a bathroom to your basement remodel can be done. Having a full bathroom in the basement, complete with shower, toilet and sink, is certainly possible and convenient. Plumbing lines will need to be run from the main floor or from the outside of your home. Ventilation should be considered with exhaust fans or windows. Electrical wiring for lights and outlets will need to be installed as well.
Convert to home office or study
A home office can help you stay on task more than working from areas like a kitchen or family room.

A home office is a place to get away from distractions and focus on work.

A home office can be comfortable and quiet, making it easier to make phone calls.

Home offices are great for presentations, so you don't have to meet people at coffee shops to give them your pitch or ask for funding.

Home offices are also useful for video conferencing with other professionals in your industry.
Install a new staircase
You've been wanting to remodel your basement but you just don't know where to start. Well, one of the most important things that you should consider is how you will access the basement from the main house. The easiest option is to install a new staircase which can easily be done by any contractor. However, before you make this decision, consider other options like installing a spiral staircase or even a stair lift for those with physical limitations. You may also want to consider installing a stair runner or adding natural light in the form of a skylight.
Maximize your living space with a basement remodel.
A basement remodeling project is an excellent way to add usable square footage and value to your home. Whether you're looking for a new bedroom or bathroom, home office or study, storage space, media room, wine cellar or even a home gym, we can make it happen. Built Right Ego Workshop can help you plan and design the right basement remodel for your lifestyle and budget.
While most basements were originally designed as simply extra storage space for a home, that doesn't have to be their only purpose anymore. Today's basements are used as everything from game rooms to home offices to media rooms. And if you decide later that your basement needs more space for storage instead of living quarters? That's easy too! We can build flexible shelving throughout the room that will allow you to create the perfect balance between living and storing.
For basement remodeling and expansion in Tacoma, contact us today! 
Built Right Eco Workshop at (407) 497-8439