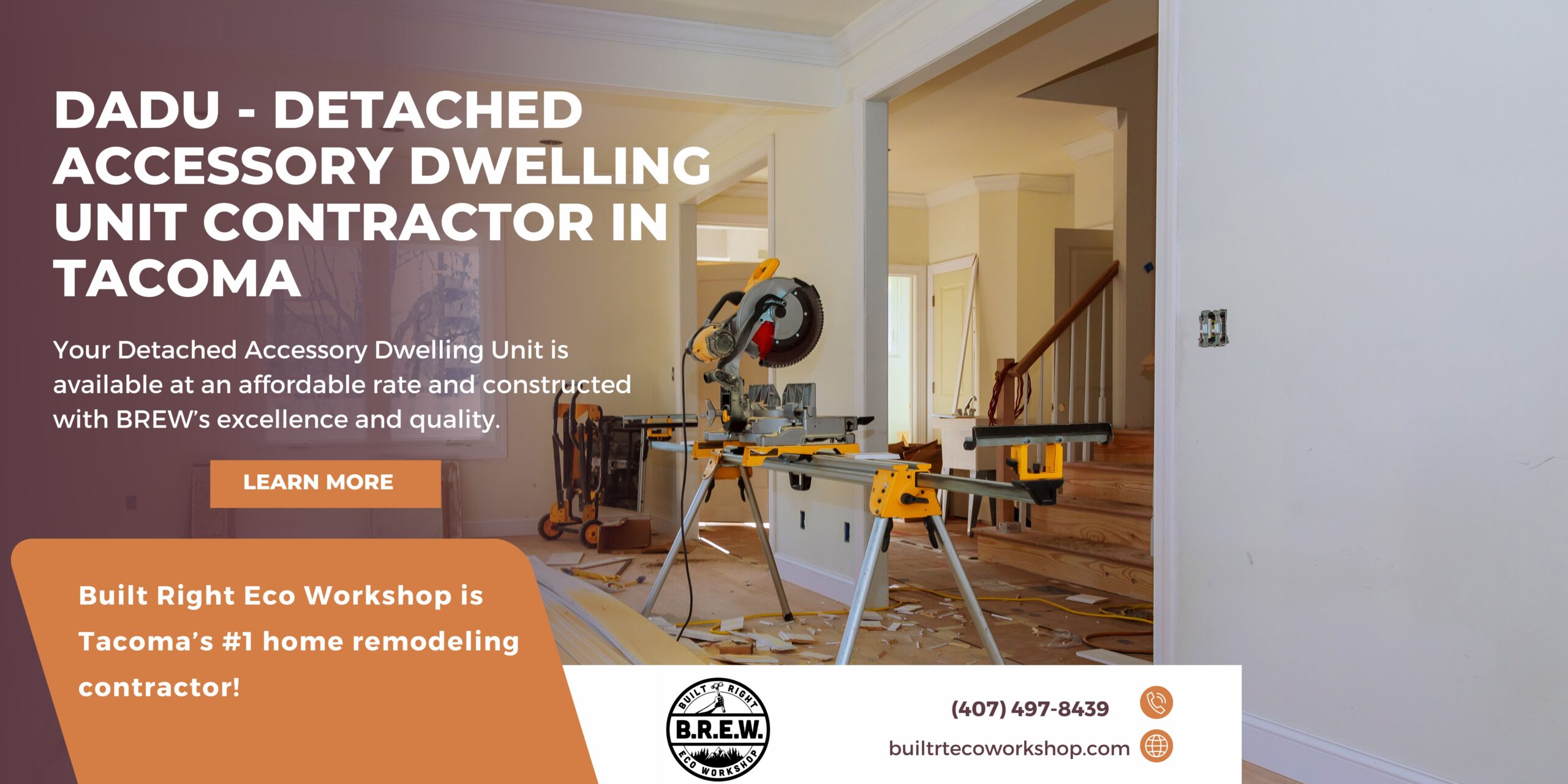 Your Detached Accessory Dwelling Unit is available at an affordable rate and constructed with BREW's excellence and quality. BREW has the expertise to guide you through Tacoma's permits and regulations while building a greener, sustainable detached dwelling unit.
BREW offers detached accessory dwelling units (DADUs), commonly called Tiny Houses, Mother-In-Law suites, or Backyard Cottages. They are all separated, liveable structures built on an existing home's property. The DADUs are homes fully constructed with kitchens, living areas, bedrooms, bathrooms, and sometimes more, such as decks, garages, or storage spaces. The buildings conform to your property and provide a rent option or a family member's independent living space.
There are restrictions and codes we must follow in accordance with the construction of DADUs in Tacoma and Seattle. In order to follow the rules, we must customize and construct the DADU as we learn what we can and can not do on your property. With that in mind, you get a specialized place of residency perfectly suited for you.
The city of Tacoma has ADU regulations and regulations that we are more than willing to explain, guide you through, and find the appropriate applications for your proposed unit. 
DADU contractor guides you through the process.
Our Tacoma DADU contractor knows the important standards to get your Tacoma DADU approved. We provide an estimate for renovations, and will work closely with you to develop a sound plan that meets your needs and improves the living situation for all members involved.
BREW offers a personalized and customized approach to you DADU.
We know that every client has different needs and preferences, so we are offering you a more customized design that still fits within the city's guidelines and your budget. Our designs include a more personal approach that combines your preferences and needs with our building and structural comprehension.
We believe in making your residential project look and feel like a natural extension of your original home. From the smallest space to the largest, we have the expertise to design the kind of space right for you. Perhaps you want a wheelchair ramp or a customized tiny kitchen. Maybe you prefer a bedroom over a loft. It's your detached accessory dwelling, and you don't have to have the same specs as everyone else.
DADUs are customizable to your choices and needs.
DADUs (Detached Accessory Dwelling Units) in Tacoma are customized in many ways, depending on the homeowner's preferences and the city's zoning regulations. Here are some possible ways to customize a DADU in Tacoma:
Size and layout:

DADUs can be built in various sizes and layouts to fit the available space on a property and the homeowner's needs. Some DADUs are more compact and efficient, while others are larger and more spacious.

Exterior design

: DADUs can match the existing home's style. Homeowners can choose from various materials, colors, and architectural styles to customize the exterior of their DADU.

Interior finishes:

The interior of a DADU has a variety of finishes, such as flooring, cabinetry, countertops, and fixtures. Homeowners can choose from various materials and styles to create a personalized living space.

Energy efficiency:

Homeowners can incorporate energy-efficient features into their DADU, such as insulation, high-efficiency heating and cooling systems, and energy-efficient appliances. These features can help reduce energy costs and lower the home's environmental impact.

Accessibility:

DADUs have accessible options for people with disabilities or limited mobility. These options can include features such as wider doorways, grab bars, and accessible bathrooms.
Why choose BREW for your Detached Accessory Dwelling Unit?
You can truly have the DADU of your dreams and enjoy the benefits of a beautiful constructed addition to your Tacoma property. 
For Tacoma DADUs, Contact us today. Built Right Eco Workshop (407) 497-8439.  Get your free estimate.
"We'll transform your home into a place you will love!"