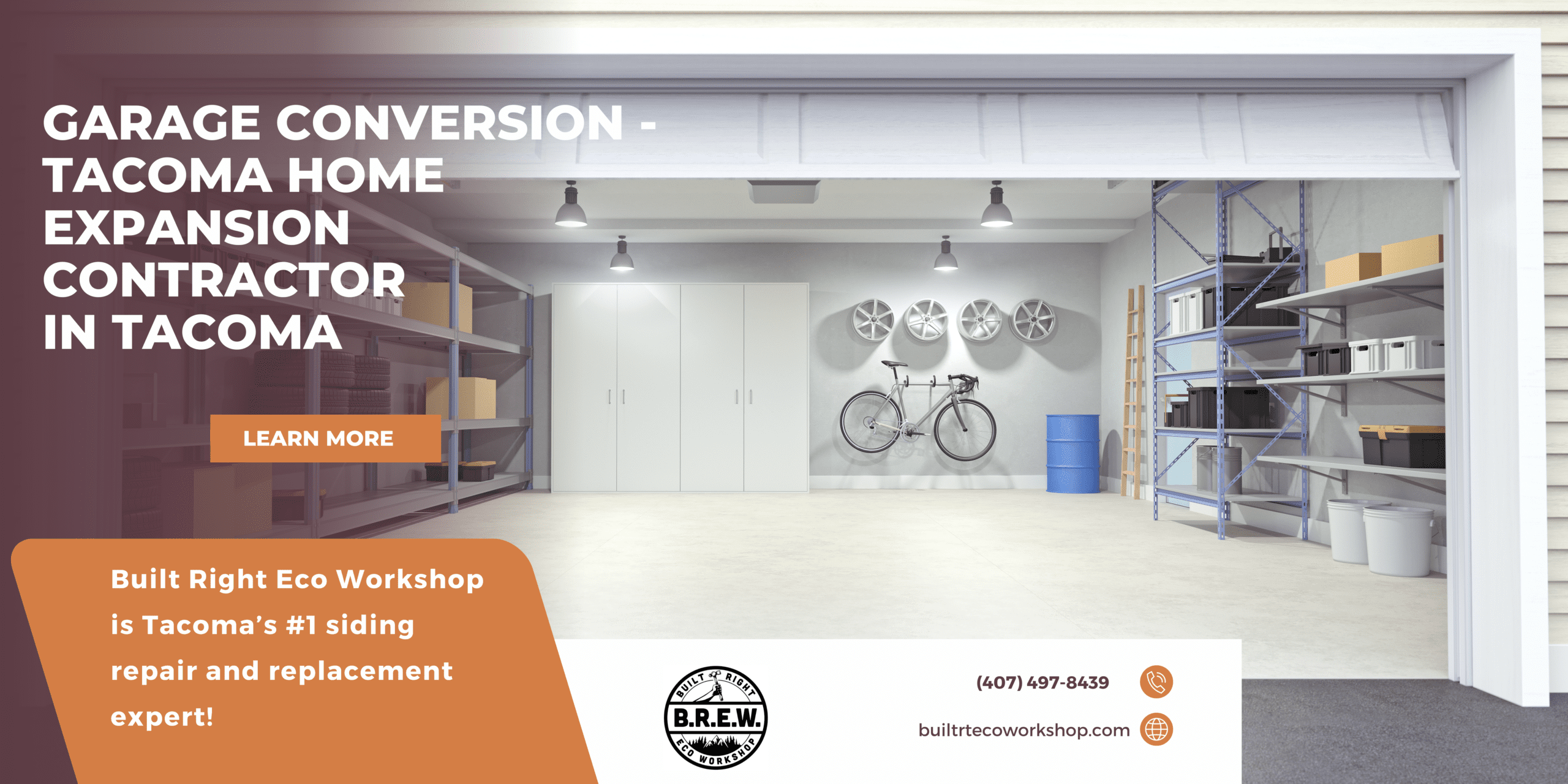 We'll transform your garage into a fresh, renewable, and invigorating living space! We build it right with eco-friendly materials while preserving the historic integrity of your home.
How much space do you use in your home? Probably not as much as you think. Most people have plenty of space, but they use it improperly.
For example, you may store Xmas decorations in closets and stuff your garage with tools, gardening equipment, and old things you no longer use. If you are jamming stuff into your home's square footage, you are not sufficiently using the space you work and pay for.
Think of the things you want to do in your home. Wouldn't it be easier if you could easily access the space that was made for living instead of using it to store junk? Did you know that you can maximize your storage and living space with a simple conversion?
You actually have the extra space in your home to do the things you want, but since you're not going to do yoga in a wet, cold garage, you might want to consider a garage conversion.
Do you want space for your hobbies, or do you wish you had workout space to improve your health? How about adding a play area for your children? Here's how to access the extra space in your home that you pay for monthly!
Transformational. Functional. Spacious.
If you're running out of space, you might consider converting your garage into a playroom for the kids, an office or gym, or even an in-law suite. It's much less expensive than adding a room and much less stressful than moving.
Converting your garage into a room is a great way to get the extra space you need, and making it happen is speedy and reasonably priced. 
You don't have to worry about making major structural changes; instead, we can convert your existing structure into usable space that will serve your needs now and in the future. Our contractor will work with you every step to ensure your conversion goes smoothly.
Converting your garage is faster and less expensive than a room addition.
Converting your garage is usually faster and less expensive than a room addition.
It takes much less time and money to convert a garage than to add a room.
Converting your garage is often completed in less than half the time adding an addition would take, and we do it in an appropriate and realistic amount of time.
We will work within your budget. Regardless of what you are working with income-wise, we can tailor anything you want and customize a space that works for you!
We are flexible and understand that you want enjoyment and comfort in your home. That is what we do.
Gain space for an office, playroom, or game room.
There are many reasons to convert your garage. One is that you can gain space for an office, playroom, or game room. As the family grows and your needs change, keeping this in mind is a good idea. 
If you have a growing family that needs more space, a garage conversion opens the unused square footage at a low cost.
Since the pandemic, adult children are moving in with their parents and vice-versa. Young adults are accessing more education online, which means they stay home instead of running off to college. 
Of course, having your kids and their partners or even their children at home is great, but let's face it. It can get a little tight at times. Wouldn't a room be great for them? Let them have their space, and you can have yours, too!
Increase your home's value.
One of the best reasons to convert your garage into useable space is that it increases your home's value. Buyers often bid on houses with converted garages and basements because it makes the home "appear" more expansive, high-end, and luxurious, even though you spent very little on the renovation. Our talented, experienced contractor will make it look like you spent a fortune.
Welcome to BREW. (We are Built Right Eco Workshop.)
We are a small general contracting company specializing in garage conversions, basement remodels, porch restoration, and builds. We love working with our clients to create something that blends perfectly with the existing architecture of their homes. Give us a call, and let's see what we can brew up together!
We strive to help individuals maximize the space in their homes by building functional and efficient living spaces. We expand the unused portions of your house with transformational room conversions. Our supplies and materials are environmentally safe, and we'll provide you with a product that will last for years.
You may not necessarily need an entire room conversion. That's okay. We will take the time to discuss what you want and make it happen. 
We can handle even the smallest of jobs. You might need something installed, and you simply can't do it yourself.  We're the perfect solution for those needs that don't require an entire construction crew. If you need more comfort or expansion, just ask, and we'll help you with what you need.
Our expert contractor can add many necessities to convert your garage, including:
Heat source
Plumbing
Bathroom
Access to the room, including stairs, doors, windows, ramps, etc.
Cabinets, shelves, closets
Closet for hot water tanks
Carpeting
Installation
And more!
If you need a reliable contractor with a passion for building and restoring homes in and around the Tacoma/Seattle area, call us at Built Right Eco Workshop. We build it right for you!
Your estimate is FREE. Use our contact page or call (407) 497-8439.