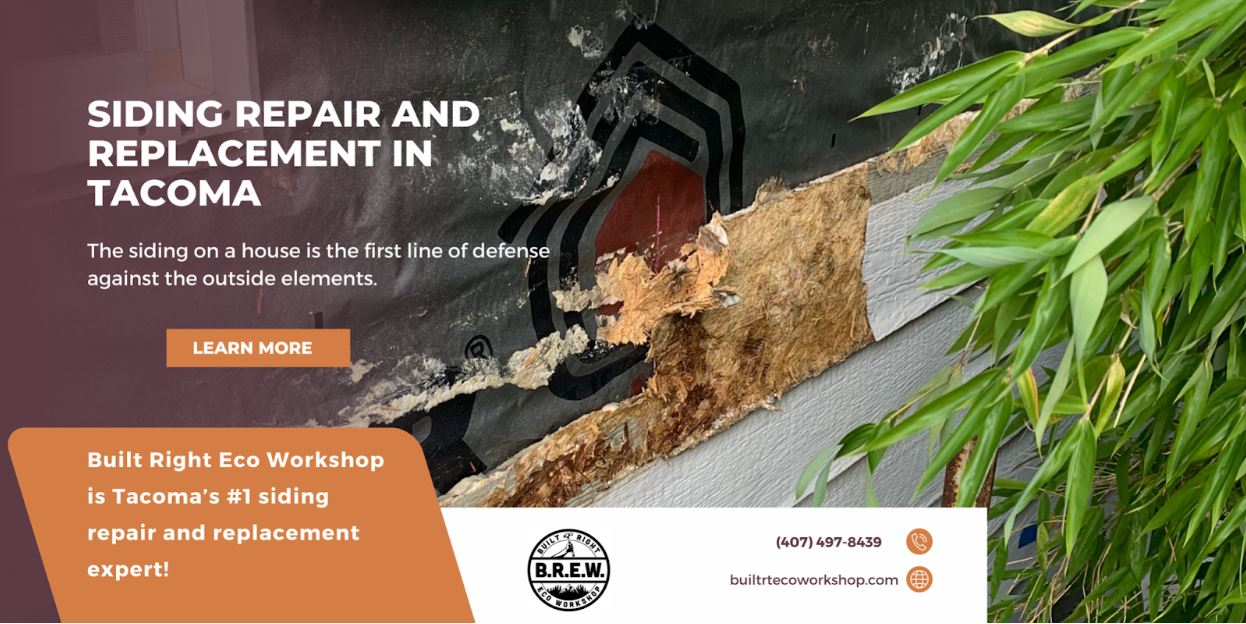 Do you sigh when you look at the outside of your house? Has it lost that bright, "Wow" appeal that it once had? Does it appear dull, weather ridden, and eaten up by Northwestern winters?
You may not even know if you need to replace the siding on your house. If you live in the Tacoma area, the best thing to do is call us at Built Right Eco Workshop. (BREW).  If you have any questions and need a siding replacement company, we'll answer you quickly and tell you if you need new siding or let you know how we can help repair it. We will find a way to save you time, money, and stress. (407) 497-8439
If you see signs of damage, it's important to act quickly. If your home is still under warranty, you may be able to get the problem resolved for free through your contractor or siding manufacturer. After that, it's a good idea to keep an eye on things by inspecting the siding regularly. You can do this easily yourself with a little effort and know-how.
Does your siding look old? Does it need replacing? How to know if your house needs new siding.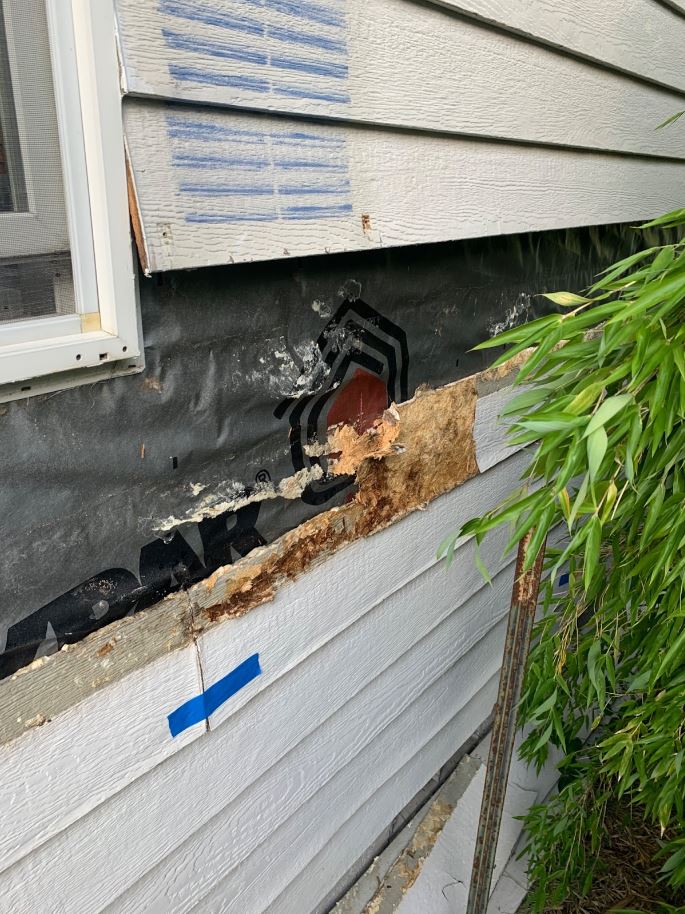 Siding is meant to last at least 15 years, but if you are seeing a warping, tearing or flaking on your house's siding, then it is time to replace it. When replacing siding, you should opt for an architectural shingle that matches your existing style.
A great way to determine when your siding needs replacing is by observing signs of damage. If you continue to notice warped boards or panels, cracks in the boards, faded paint, or peeling paint, that's when you need to call us.
While most homeowners don't think about the average lifespan of their siding, an inspection can make all the difference in determining when it's time to replace. Cracked or faded boards give you a first clue, while peeling paint, warped boards and mold growth are red flags that indicate serious damage underneath.
Built Right Eco Workshop is Tacoma's #1 siding repair and replacement experts!
(407) 497-8439
Reasons to repair or replace the siding on your house.
The siding on a house is the first line of defense against the outside elements.
The siding protects the home's structure, insulation, and windows. It makes sense to keep your home's siding in good condition, which may mean repair or replacement.
If the siding is eroding on your home, it will stop protecting your home and cause these problems.
Heat will escape from your home costing thousands of dollars on your heating bill.

Water can trickle and drip into the framing causing mold, mildew and rot.

Insects and rodents start working their way into your home.

Your entire home's infrastructure is at risk.

Bowing or warping of the house's frame is possible.

The curb appeal of the home slowly disintegrates.

Cracks appear in the siding and the color fades. It bends and doesn't stay rooted in place.

The siding on your house is like the foundation of a car: it protects the home's structure from all outside elements. Everything external affects the siding, from rain, sleet, and snow to the blistering sun and animals like birds, rodents, or even plants that grow too close to the house. It makes sense to keep your home's siding in good condition, which may mean repair or replacement.
Siding is one of the most important parts in a homeowner's exterior, and it contributes to your home's curb appeal, durability and even its energy efficiency.
Replacing or repairing your home's siding is an important step in maintaining the long-term value and integrity of your house. Siding can get dinged up over the course of years, but even a small tear in siding can allow large amounts of heat and cold to move into and out of a home, which is not only uncomfortable but also bad for insulation.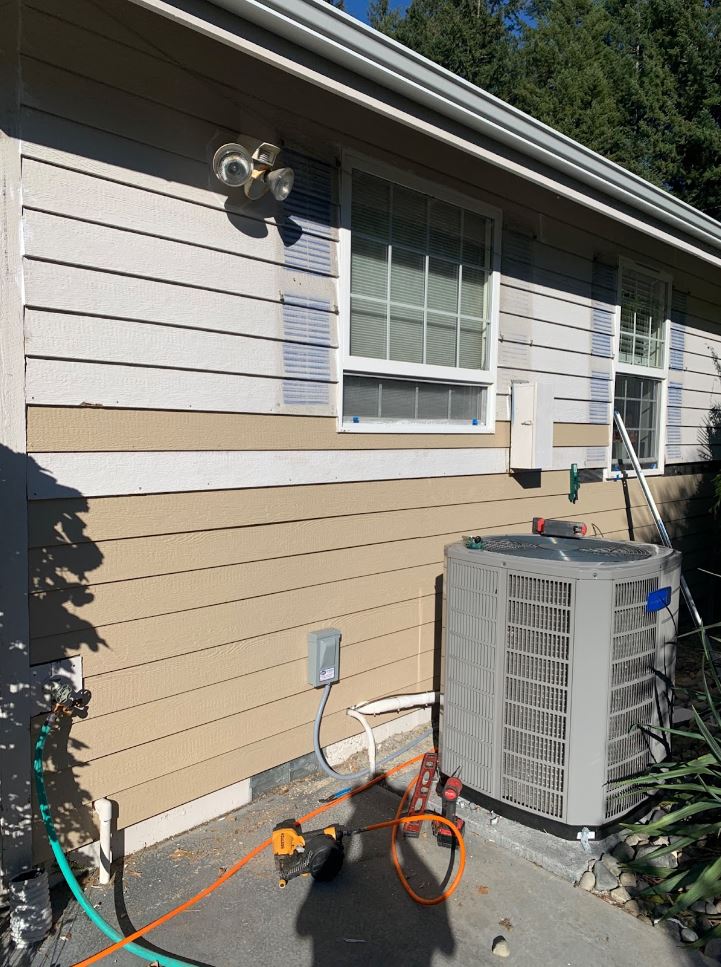 Siding needs to be durable and long-lasting. It also needs to look good and complement your home's design.
When you replace your home's old, worn-out exterior, it can be an exciting time! That fresh window trim and new color instantly elevate any home's curb appeal and value. While no homeowner looks forward to paying for repairs to their house, professional installation by our team can help ensure that when you do need repairs or replacement you are getting top quality materials installed by seasoned professionals.
Siding needs to be durable and long-lasting. but it also needs to look good and complement your home's design.
That's why you need an experienced siding contractor to help you select the best siding for your home. That's why Built Right Eco Workshop is to help Tacoma homeowners with all their siding needs, from repairs and replacements, to installations.
If you need to repair or replace damaged siding in Tacoma, WA, you're in luck, because Built Right Eco Workshop is Tacoma's expert in sliding repair and replacement.
Our siding repair and replacement services can help you to keep your home protected and functioning like new. We believe in using only the highest-quality materials and work with the utmost care to ensure your new siding looks great for many years to come.
What is the siding on my house? Answer: Most homes in America were built with siding materials that come in two forms, wood and vinyl. Vinyl is also known as "vinyl siding". This product has been around for nearly 50 years now, and it continues to be a popular option because it lasts longer than many other types of siding materials.
The difference is Built Right Eco Workshop
When you call Built Right Eco Workshop, the difference is that we can help you with your projects on a smaller scale, so our prices are more affordable. We know how essential it is to take care of your house, and we want to help. You do not have to worry or stress about the little details. We will ensure that the work gets done right by taking away that overwhelming feeling of something you may feel is too much. Give us a call and we'll guide you through the process and make it happen within your budget.
Please let us know if you have any questions. Call us today.
Built Right Eco Workshop
is your preferred choice for siding repair and replacement in Tacoma. (407) 497-8439