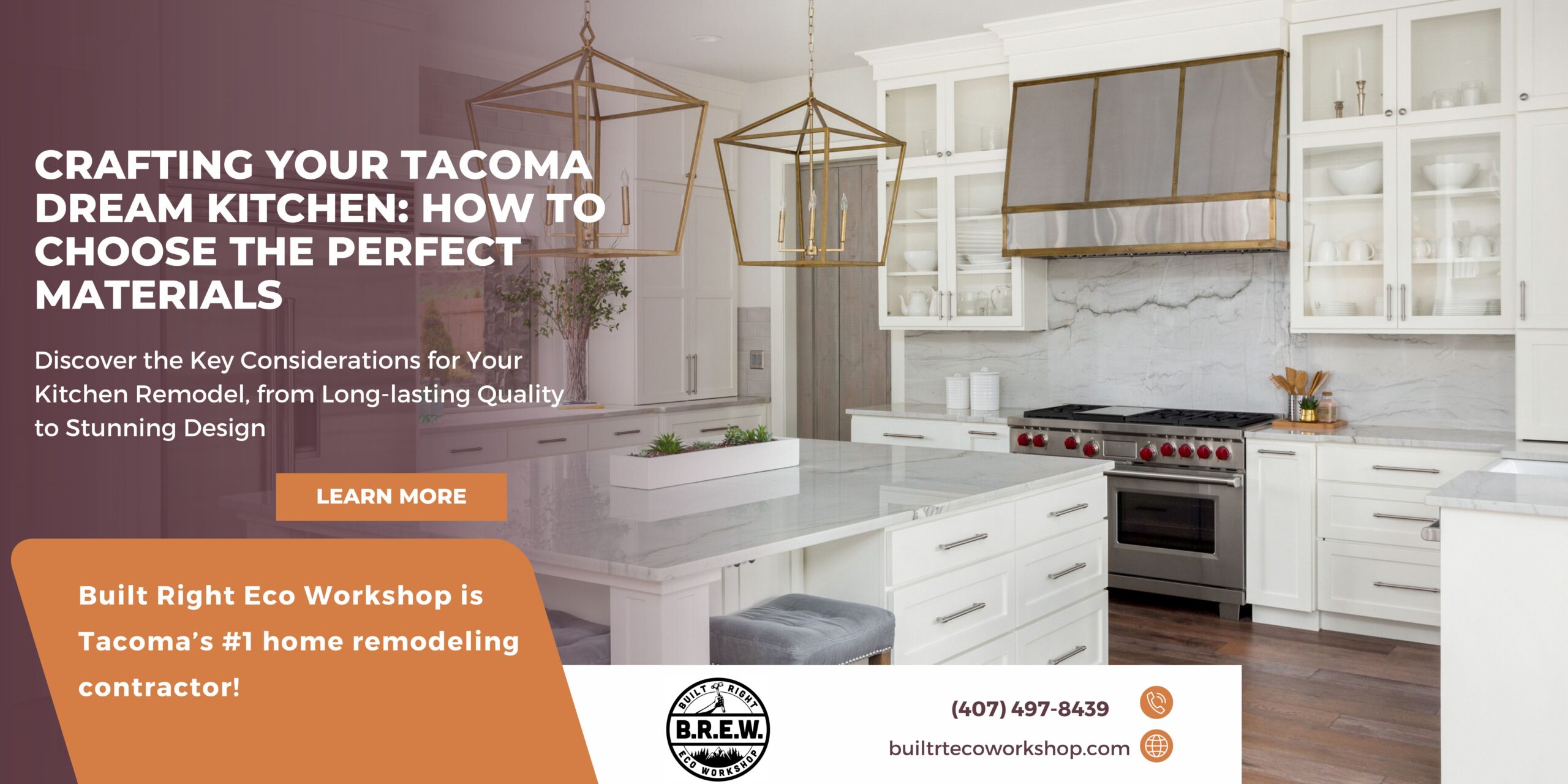 Discover the Key Considerations for Your Kitchen Remodel, from Long-lasting Quality to Stunning Design
Join Built Right Eco Workshop for expert guidance on creating your dream kitchen. Explore material choices with an emphasis on durability, maintenance, and design. Let us help you transform your home into a place you'll love with eco-friendly solutions in mind. Serving Tacoma and beyond as your trusted general contractor.
Choosing the right materials for a kitchen remodel can be daunting, laden with various challenges and potential pitfalls. The most prevalent concern is managing the budget. Homeowners often grapple with the desire for high-quality materials, custom features, and premium finishes while staying within their financial constraints. Balancing these considerations can be a delicate juggling act.
Built Right Eco Workshop offers an exceptional solution for those with discerning tastes and an unwavering commitment to quality when selecting kitchen materials. For individuals seeking nothing but the best for their kitchen remodels, Built Right Eco Workshop is the ultimate partner.
With a track record of catering to clients who prioritize excellence, Built Right Eco Workshop excels in curating materials that exude opulence and sophistication. Our deep-rooted understanding of high-quality materials and dedication to craftsmanship ensures that every detail of your kitchen exudes luxury.
How to Choose the Right Materials for Your Kitchen Remodel.
Are you planning a kitchen remodel? One of the most important decisions you will make is choosing the right materials. From countertops to flooring, the materials you select can greatly impact your kitchen's durability, maintenance, and design. In this blog post, we will explore some key factors to consider when selecting materials for your kitchen remodel.
One of the first factors to consider when choosing materials for your dream kitchen is durability. With its share of rain and humidity, Tacoma's climate can be challenging. Therefore, selecting materials that can withstand the test of time is essential. Here are some material options known for their durability:
Countertops: Granite, quartz, and stainless steel are excellent choices. They are resistant to stains, scratches, and moisture, making them ideal for Tacoma's climate.
Cabinetry: Solid wood, plywood, or high-density fiberboard (HDF) cabinets are more durable than particleboard options. Look for finishes that are easy to clean and maintain.
Flooring: Ceramic or porcelain tiles, natural stone, or hardwood floors are durable for Tacoma kitchens. Ensure they are properly sealed to prevent water damage.
While durability is crucial, the aesthetics of your dream kitchen are equally important. Your kitchen should reflect your style and personality. Consider the following design elements:
Color Palette: Choose colors that resonate with your taste. Light colors make a small kitchen appear larger, while darker hues add warmth and coziness.
Cabinet Styles: Opt for cabinet styles that complement your kitchen's theme. From sleek and modern to classic and traditional, the possibilities are endless.
Backsplash and Wall Finishes: The backsplash is an opportunity to add color or texture. Consider subway tiles, mosaic patterns, or natural stone for a visually appealing backdrop.
Lighting: Adequate lighting can enhance the overall ambiance. Incorporate pendant lights, under-cabinet lighting, and well-placed fixtures to create a welcoming atmosphere.
Functionality and Storage
Your dream kitchen should not only look stunning but also function efficiently. Think about your cooking habits, storage needs, and how you use the space:
Layout: The kitchen's layout should facilitate easy movement and efficient workflow. Common layouts include the galley, L-shaped, and U-shaped kitchens.
Storage Solutions: Maximize storage with pull-out pantry shelves, deep drawers, and custom cabinets. Consider built-in organizers for pots, pans, and utensils.
Appliance Integration: Seamlessly integrate appliances into the kitchen design for a sleek and uncluttered look. Built-in ovens and concealed refrigerators are popular choices.
Crafting your dream kitchen is an investment, so it's essential to establish a realistic budget. Consider not only the cost of materials but also labor and installation. Prioritize your spending based on what matters most to you: high-end appliances, custom cabinetry, or luxurious countertops. Eco-friendly doesn't necessarily mean cheap. It's all based on what you decide.
If sustainability is a priority, explore eco-friendly materials for your Tacoma dream kitchen. Look for:
Recycled and reclaimed materials: Consider using recycled glass countertops or reclaimed wood for a unique and eco-conscious touch.
Energy-efficient appliances: Choose energy-efficient appliances to reduce your kitchen's carbon footprint.
Low-VOC paints and finishes: Use low-VOC (volatile organic compounds) paints and finishes to minimize indoor air pollution.
Crafting your Tacoma dream kitchen is an exciting journey involving carefully considering materials, aesthetics, functionality, budget, and environmental impact. By choosing durable materials, incorporating your unique style, optimizing functionality, and beautifying your home,  you can create a kitchen that meets your needs and becomes the heart of your home for years to come.
Transform your kitchen into a beautiful, functional space with Built Right Eco Workshop.
Transforming your kitchen into a beautiful and functional space has never been easier than with Built Right Eco Workshop. We understand that the kitchen is the heart of your home and deserves to be a place where you can cook, entertain, and create lasting memories. That's why we're dedicated to helping you achieve your dream kitchen, which reflects your unique style and meets your practical needs.
We prioritize quality, durability, and eco-consciousness at Built Right Eco Workshop. Our experienced renovation contractors are committed to guiding you through every step of the kitchen remodeling process, from initial design concepts to the final installation. We believe in using sustainable materials and eco-friendly practices whenever possible, ensuring that your kitchen looks fantastic and contributes to a greener, more sustainable future.
Ready to turn your dream kitchen into a reality? Don't wait any longer! Contact Built Right Eco Workshop today, and let us guide you through crafting your perfect Tacoma kitchen. Whether you're looking for durability, stunning design, eco-conscious choices, or all of the above, we will make it happen.
Give us a call, schedule a consultation, and let's start planning your kitchen remodel today. We'll work closely with you to ensure every detail aligns with your vision, style, and budget. Your dream kitchen is just a click or a phone call away. Don't miss the opportunity to transform your kitchen into a beautiful and functional space with Built Right Eco Workshop. Get in touch now, and let the transformation begin! (407) 497-8439
⤵️Stay up-to-date with our eco-friendly construction blogs for the Seattle-Tacoma area.
Creating a Sustainable Home: Tips from Eco-Friendly Contractors in the Tacoma area.
Eco-Friendly Construction: The Future of Building in Tacoma/Seattle
How Eco-Friendly Contractors are Making a Difference in Construction
👉Explore the extensive range of renovation and remodeling services we offer